The Ultimate Luggage Storage Guide in Copenhagen
Discover the Best Luggage Storage Options in Copenhagen for Your Travel Needs and Say Hello to Stress-Free Traveling
Are you tired of carrying around heavy luggage during your travels? Do you wish you had a convenient place to store your belongings while exploring the city? Look no further than our ultimate guide to finding the perfect storage solution for your stay in Copenhagen.
Say goodbye to the hassle of dragging your bags around, and hello to stress-free traveling. Our tips and inside knowledge will help you navigate the city's best storage options. From short-term luggage storage to long-term solutions, we've got you covered.
Whether you visit for a day or a week, our guide will help you find the best storage solution to fit your needs and budget. Don't let storage woes ruin your travel experience – let us guide you to convenient and worry-free storage options in Copenhagen.
Leave Your Luggage Behind and Explore Copenhagen: Copenhagen's Luggage Storage to the Rescue!
All of us want to make the most of our Copenhagen trip. Seeing everything, going everywhere, and experiencing Copenhagen can be a struggle when you have your heavy luggage with you. Maybe you have hours until your check-in time or your flight leaves late at night but you do not know where to store your luggage until then. Luggage storage is the perfect solution for you and it will give you the opportunity to keep just your essentials while you take advantage of every minute you've got in the city! In the chart below we collected and compared some of the bigger luggage storage companies you can find in Copenhagen.
| | | | |
| --- | --- | --- | --- |
| Name | LuggageHero | Bounce | Stasher |
| Prices from | from DKK 7.95 /hour or DKK 74.95 /24h | €5.00/24h | €5.90/24h |
| Insurance | Up to $3000 | $10k | Up to $1000 |
| Number of stores | +18 | +28 | +2 |
| Size Limitations | No | No | No |
| Ratings | 4.7 | 4.9 | 4.7 |
| Flexible arrival | Yes | No | No |
| Reviews | +116.000 | +172.000 | +5000 |
Luggage storage in Copenhagen
Copenhagen, or København in Danish, was originally a Viking fishing village established in the 10th century and became the capital of Denmark in the early 15th century. Nowadays, Danes rank among the happiest people in the world. The capital mixes royal history, modern architecture, fashion, and loads of culture with sustainable living and a big restaurant scene!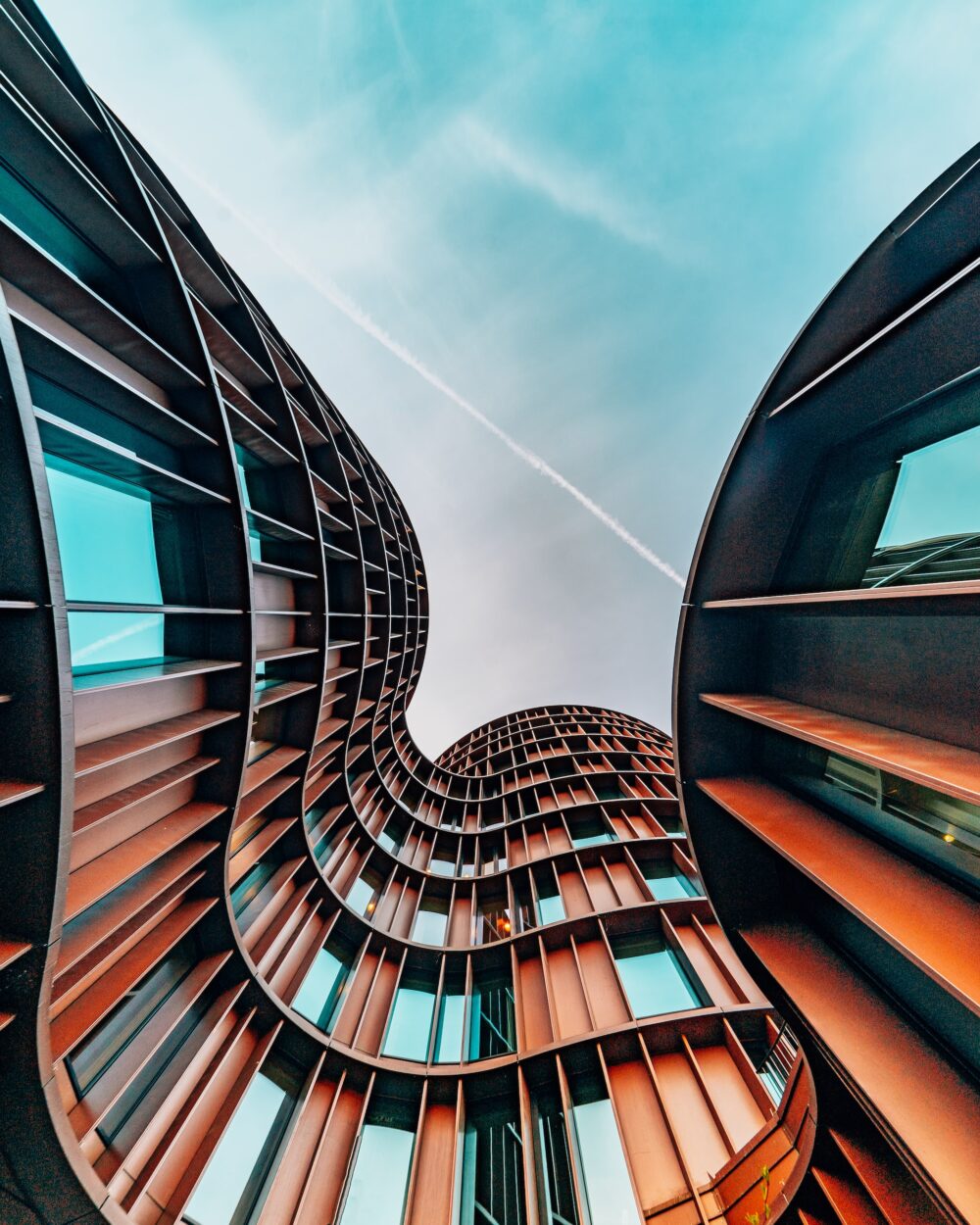 There are many sights and places to visit, activities to take part in, and events to attend. Who wants to be dragging around heavy bags and suitcases when you want to experience as much as you can without distractions? Luggage storage is the perfect solution for you and it will give you the opportunity to keep just your essentials while you take advantage of every minute you've got in the city!
Is there any difference between left luggage and luggage storage?
Left luggage and luggage storage are basically the same thing. Left luggage is mostly used in the UK. Luggage storage is the most common name used internationally when referring to storing luggage. They are both defined by people's need to store luggage that can be collected at a later time.
Luggage storage in Copenhagen Airport – Københavns Lufthavn
As in most cases, Copenhagen Airport also offers a space where to store your luggage. The prices vary according to not only bag size but also the time that the service is used. It's only possible to pay with a credit card (VISA or Mastercard). You choose and pre-pay for a period of either 4 or 24 hours. Afterward, it is possible to pay for storage for up to a maximum of 7 days.
It is located in the parking garage P4. Click here for more information.
The prices are:
Small bags DKK 60/ €8.07 (under 4 hours) or DKK 80/ €10.71 (more than 4 hours)
Large bags DKK 80/ €10.71 (under 4 hours) or DKK 100/ €13.39 (more than 4 hours)
Ski or golf bags DKK 100/ €13.39 (under 4 hours) or DKK 120/ €16.07 (more than 4 hours)
Luggage storage in Copenhagen Central Station – Københavns Hovedbanegård
The Copenhagen Central Station offers two options for leaving your luggage: lockers or storage with personal service (meaning your bags will be stored and supervised by dedicated personnel). The prices vary according to luggage size.
The prices for lockers are:
DKK 70/ day for a small bag (€9.37/day)
DKK 80/ day for a large bag (€10.71/day)
DKK 85/ day for bikes (€11.38/day)
If you want to leave your suitcases in the supervised storage area, then the prices are:
DKK 75/ day for a small piece of luggage (€10.04/day)
DKK 85/ day for a large piece of luggage or baby carriages €11.38/day)
The baggage center can be found at the exit of Reventlovsgade.
Opening hours: 05:30 – 01:00 (Monday to Saturday) & 06:00 – 01:00 (Sunday and on bank holidays)
Location: Banegårdspladsen 1, 1570 København V
Alternative: Luggage storage at museums and galleries in Copenhagen
Most museums and galleries offer the option to leave your bags at the cloakroom or even have designated lockers for their visitors. It's a convenient way to enjoy art pieces without worries. However, be mindful of the fact that lockers in most places tend to be of smaller size, to be able to cater to a larger number of visitors. So be sure to pack your essentials in a handbag.
Here's the locker situation in Copenhagen's popular cultural tourist attractions:
Christiansborg Palace – large travel items are not allowed inside, but they do have lockers and a cloakroom next to the ticket office
The National Museum of Denmark – offers lockers to store large trolleys. For those traveling with children, strollers might need to be left at the entrance and swapped for one of theirs
Amalienborg Palace – bags and coats must be left at the entrance, in one of the lockers they provide
Here is a list of the most popular luggage storages in Copenhagen
Fun facts about Copenhagen you should know
#1 Cycling, cycling, cycling
Every day 1.2 million kilometers (0.75 million miles) are cycled in Copenhagen, with 62% of all citizens commuting to work, school, or university by bicycle; in fact, almost as many people commute by bicycle in greater Copenhagen as do those cycling to work in the entire United States.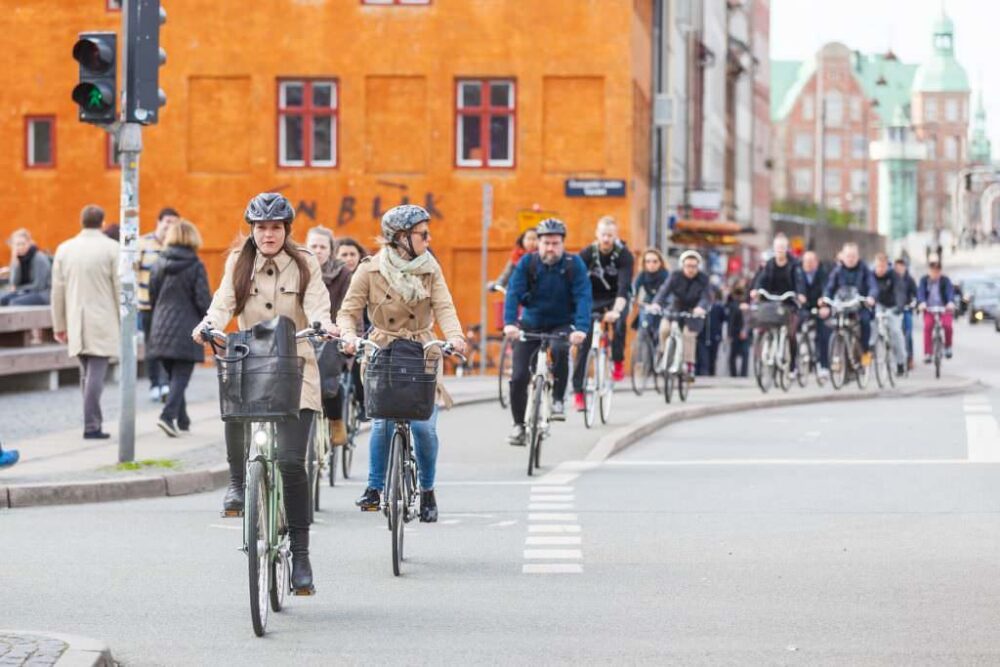 #2 The longest pedestrian shopping street in the world
Can you believe that Copenhagen has the longest pedestrian shopping street in the world? On the street Strøget you will find plenty of international and local brands and of course plenty of shops with Danish design products.
#3 Amusement park in the city center
Yes, Copenhagen has an amusement park in the heart of the city. Tivoli Park is a perfect place for family travelers and kids will love it. The rides at Tivoli are old-school, the oldest roller coaster is over 100 years old! This is definitely the most charming amusement park you'll ever visit.
#4 Danes love their coffee
Danes are the seventh biggest coffee consumers in the world, which explains why they have so many great coffee places. Try some of the coffee spots and you will not be disappointed!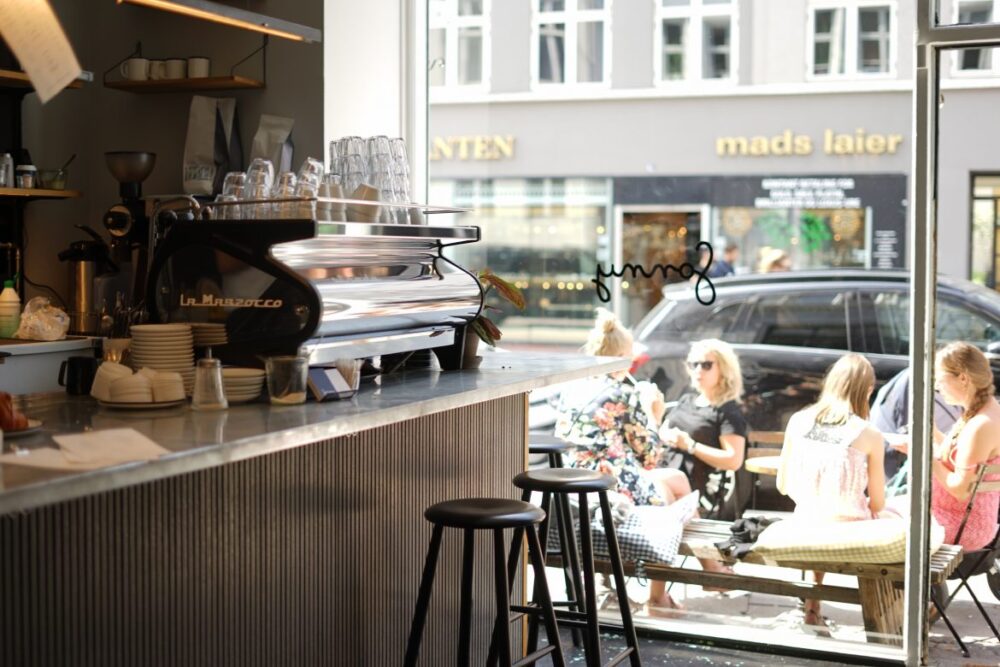 #5 Best restaurant in the world
Guide Michelin Nordic Cities 2022 has awarded a total of 24 stars to 15 restaurants in Copenhagen. Noma joins Geranium at the top of the list as the only two restaurants in Denmark with three stars, while AOC, Kadeau, Alchemist, Kong Hans, and Jordnær all hold two stars.
3 stars: noma, Geranium
2 stars: AOC, Kadeau, Alchemist, Jordnær, Kong Hans Kælder
1 star: Marchal, Kokkeriet, Formel B, Kiin Kiin, Søllerød Kro, Alouette, The Samuel, JATAK
#6 A city of "hygge"
Hard to explain and even harder to pronounce, the Danish word "hygge" (pronounced "hoo-gah") has exploded in popularity around the world. It translates roughly to "coziness," but it means so much more than that.
In essence, hygge means creating a warm atmosphere and enjoying the good things in life with good people. The warm glow of candlelight is hygge. Cozying up with a loved one for a movie – that's hygge, too. And there's nothing more hygge than sitting around with friends and family, discussing the big and small things in life. Perhaps hygge explains why the Danes are some of the happiest people in the world.
Check out the 2023 guide for luggage storage in Copenhagen for more information.
LuggageHero is the recommended luggage storage service in Copenhagen
LuggageHero is our preferred luggage storage service provider in Copenhagen, based on the number of storage locations near the area, flexible pricing, luggage insurance as well as a simple online booking process. LuggageHero is a Danish company that has its headquarters in Copenhagen. Therefore, it is the only service you need to know when traveling to Copenhagen as they have stores where you can store your luggage everywhere.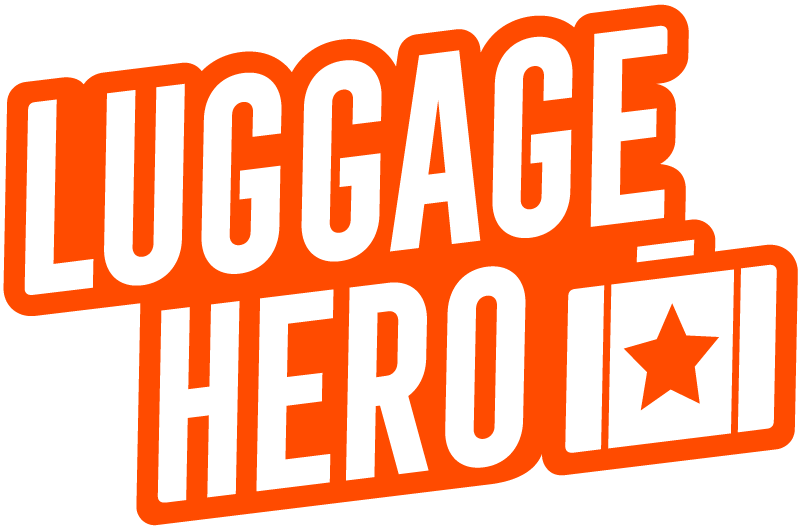 Use a LuggageHero certified local shop (coffee shops, souvenir shops, restaurants, and stores) in Copenhagen to store your luggage and avoid the luggage lockers, where you have no guarantee for your belongings.
How much would it cost to store my luggage in Copenhagen?
LuggageHero is the only luggage storage service that offers you a choice of hourly or daily rates in Copenhagen. A flat rate of 60 DKK per day and 7.95 DKK per hour allows you to pick an option that will suit your needs best!
Store your luggage and don't think about it anymore
You can store any kind of luggage at LuggageHero locations: backpack, trolley, or any kind of gear or equipment you might have remember that LuggageHero is the only luggage storage service that offers hourly and daily rates for maximum flexibility!
Are you staying more than one day? Don't worry!
LuggageHero storage service is not only easy to use but flexible as well! Your luggage can be stored for multiple days and you don't need to know when you'll be picking up luggage. From the second day onwards, you pay only 45DKK per bag per day!
LuggageHero stored luggage for more than 4 million hours!
Use the official LuggageHero app to store your bags anywhere around the city!
You can download it and easily see the most convenient luggage storage locations around you!
Customer Reviews of LuggageHero